POLICY

PRIVACY:
Inwood Hills Spirits & Wine Room respects and is committed to protecting your privacy. We may collect personally identifiable information when you visit our site. We also automatically receive and record information on our server logs from your browser including your IP address and the page(s) you visited. We do not sell your personally identifiable information to anyone. If you choose to register to be added to our mailing list, you will have the option to be removed at any time simply by contacting us via e-mail: info@inwoodhillswines.com. Subject: unsubscribe.

GIFT CERTIFICATES POLICY:
We look forward to serving you and hope you enjoy the convenience of our gift certificate. You may use this certificate only at our current location by simply handing it to the cashier for payment when making a purchase. Additional value may be added to gift certificate at any time.
Gift certificates are not a credit/debit card and have no implied warranties. Inwood Hills Spirits & Wine Room is not responsible for lost, stolen or damaged cards or unauthorized card use Gift certificates are redeemable for merchandise only. Unused value remains on the certificate and cannot be redeemed for cash.

RETURN POLICY:
NY State Law mandates that all alcohol and wine sales be final no refunds. Subject to change as per SLA laws.





TERMS

CONDITIONS
The following terms and conditions apply to the internet site of Inwood Hills Spirits & Wine Room (inwoodhillswines.com). If you have questions about these terms and conditions please contact us. By using our site you are subject to the terms and conditions referenced herein and have agreed to abide to these terms and conditions.

If you do not agree to these terms and conditions, then do not use the site.
• All content on the site is provided "as is". Inwood Hills Spirits & Wine Room does not warrant its use for any particular purpose and all pricing and listings on the site can change at any time.
• "Inwood Hills Spirits & Wine Room", "inwoodhillswines.com" is registered trade names.
• You may not Frame or link to an inwoodhillswines.com internet site except as permitted in writing by Inwood Hills Spirits & Wine Room.

SPIRITS & WINES SALES:
Inwood Hills Spirits & Wine Room does not sell alcohol to persons under the age of 21.
Inwood Hills Spirits & Wine Room does not sell alcohol online.

PARENTAL CONTROLS:
Parental control protections are commercially available that may assist you in limiting access to content that may be harmful to minors. This assistance may come in the form of computer hardware, software, or filtering services. Inwood Hills Spirits & Wine Room does not recommend or endorse any such products.

LIMITED LIABILITY:
Inwood Hills Spirits & Wine Room disclaims all such representations and warranties, including for example warranties of merchantability and fitness for a particular purpose. Inwood Hills Spirits & Wine Room does not represent or warrant that the information accessible via this site is accurate, complete or current. Inwood Hills Spirits & Wine Room nor any of its directors, employees or other representatives will be liable for damages arising out of or in connection with the use of this site. This is a comprehensive limitation of liability that applies to all damages of any kind, including without limitation compensatory, direct, indirect or consequential damages, loss of data, income or profit, loss of or damage to property and claims of third parties.



Situated steps away from the Seaman Drake Arch, the last surviving relic of an old Inwood mansion. In historical Inwood Hills Park, where it's believed that the Dutch settlers purchased Manhattan Island from the Lenape Indians.

Representing spirits and wines from all respective regions of the Old and New worlds. We aim to enhance your shopping experience with service that pairs our selections with food or simply entertaining family and friends. Please allow us to help you find that perfect spirit or wine for your palate's pleasure.

Cheers!





Our mission at Inwood Hills Spirits & Wine Room, is to provide a welcoming space in our neighborhood for folks to discover and explore wines and spirits of the world. We take great pride in our hand-picked selections with an emphasis on quality and value.

Our growing selection of over 300 wines and spirits include: Red, White, Rosé, Sparkling, Sake, Fortified/Dessert, Fruit/Beverage, Kosher, Organic and Vegan.

For our spirits aficionados we offer: Brandy, Cognac, Cordials, Gin, Rum, Scotch, Tequila, Vodka, Whiskey, Vermouth & others including the finest Dominican spirits.

Our buyers and staff are passionate about wine and spirits, so we can help you select wines for all and any occasions.  

We offer weekly tastings with visits from vintners and producers. Click on chalkboard for upcoming SPIRITS & WINES Tastings.

To receive more information, offers and coupons please sign up to our email list.

Stop by to say hello and browse!




Here you'll find all the latest promo codes, coupons, discounts and special offers available only at our shop.

Items may vary and are subject to availability. Offers cannot be combined on already discounted wines and are subject to restrictions and limitations. Offers available in-store only.

Prices and charges are subject to change without notice. Void where prohibited. We accept all mayor credit cards with a $10 minimum.

Be sure to check back often!
Jason's successful career includes recipes and articles that have appeared widely in UK magazines and newspapers, guest appearances on UK TV programmes "Saturday Kitchen" and "Market Kitchen". In June 2008, Jason won the third hugely popular series of BBC2's "Great British Menu" and returned as a host in 2009.
The maze cookbook, published by Quadrille in 2008, has sold excess of 50,000 copies worldwide (USA, Holland, Australia, South Africa, and New Zealand). Jason has also taken part in Phaidon's Top One Hundred Emerging Young Chefs of the world book, entitled Coco.
The success of the maze cookbook leaves his fan base waiting for his next book, Gourmet Food for a Fiver, which debuts in April 2010.
Jason also regularly takes part of food campaigns. Most recently, he has participated in: Warburton's bread week, "Ten Star Tapas" with Tio Pepe, and the Greek tourist board "Kersmna" an effort aimed to promote Greek food in the UK.
Jason is an active patron of David Nichols Spinal Injury Foundation, Hospitality Action, and regularly volunteers with other charities including Lukea 2000 where his efforts have raised over £2mm.
Jason lives in southwest London with his wife and daughter.
"Should you hold a knife to my throat and force me to say which one of the chefs in the Gordon Ramsay group I thought was the best, my answer would be Jason Atherton. Actually, I'd admit it without any coercion."
FAY MASCHLER
Evening Standard, 16.04.08
"It's a mad, marvellous thing, is Maze. The delicious paradox being that all this apparent irreverence is made possible by awesomely sophisticated cheffery."
Giles Coren
Times, 18.06.05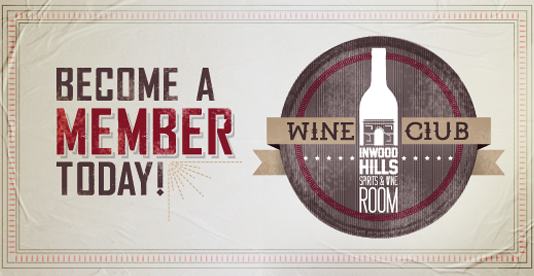 As we close in on the logistics of our Wine Club program. We invite you to visit our establishment or call to speak to one of our associates to learn more about the benefits and offerings the upcoming "Inwood Hills Spirits & Wine Room Wine Club".
Don't miss out on this fun, and tasty program that we plan to offer.




Norberto Duran - General Manager
nduran@inwoodhillswines.com

Delivery hours:
Walking Distance Only
Monday - Saturday 2-8pm
Sunday 2-7pm
Hours of Operation:
Monday - Wednesday 12-9pm
Thursday - Saturday 12-10pm
Sunday 12-8pm


T. 646.490.6666
F. 646.490.6667

5057 Broadway, NYC, 10034
(bet. 215th St. & 216th St.)